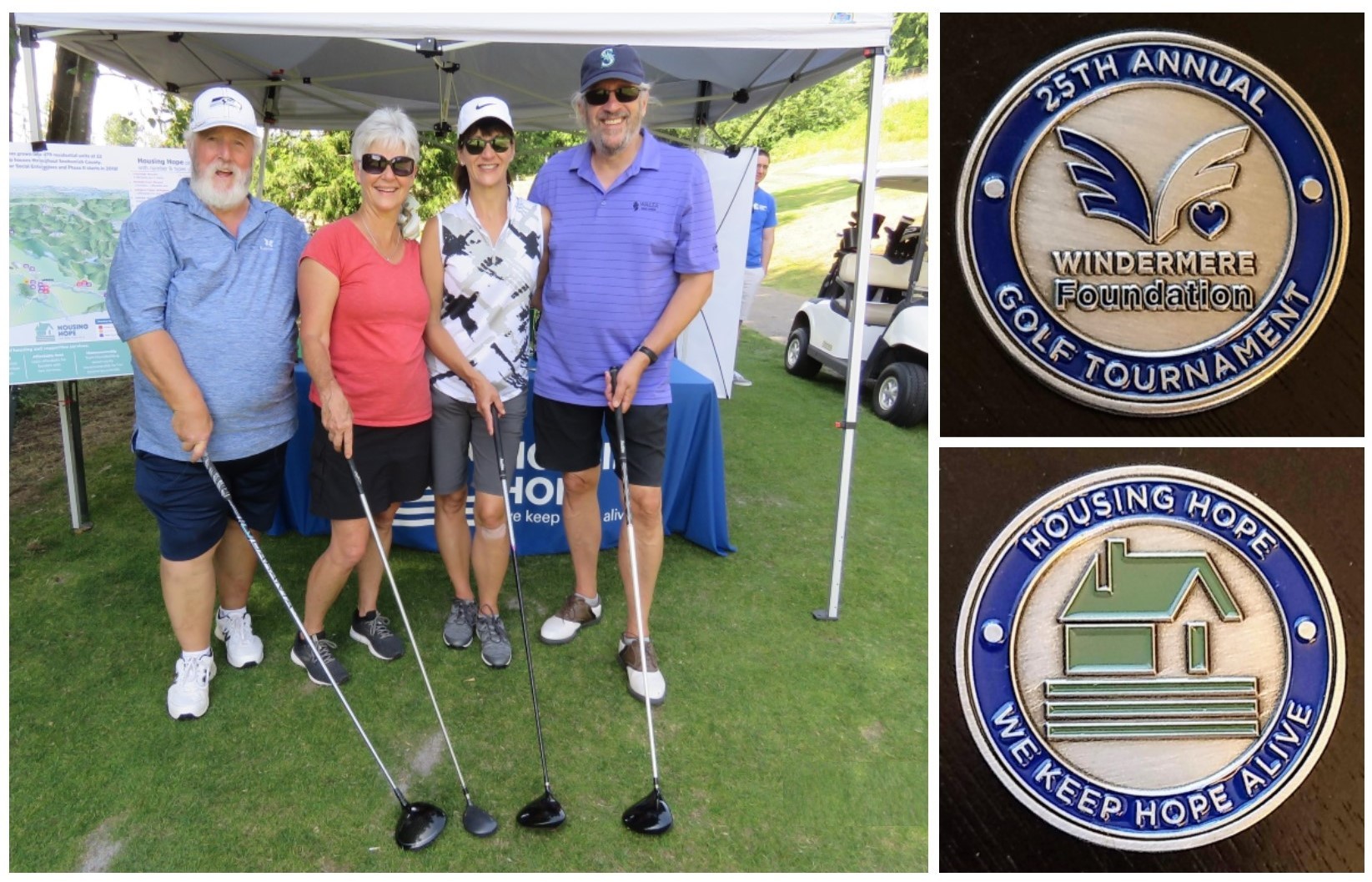 Golfing and giving seems to be a tradition with Windermere Real Estate. Many of our offices hold golf tournaments to raise money for local non-profits via the Windermere Foundation. The longest-held Windermere golf tournament has been hosted by a group of Windermere offices in Snohomish County, Washington.
Snohomish County Windermere Foundation Golf Tournament
This year's 25th Annual Snohomish County Windermere Foundation Golf Tournament was held on July 26 at Cedarcrest golf course in Marysville, Washington. It was a festive day of golfing, food, and fun as they celebrated 25 years of support for low-income housing. The event raised nearly $30,000 for the Windermere Foundation, which then sent a donation to support Housing Hope and their ChildHope programs. Each golfer received a commemorative Windermere Foundation 25th Annual Golf Tournament coin. Over the past 25 years, this tournament has raised over $400,000 in support of non-profits in Snohomish County.
Housing Hope's mission is to promote and provide affordable housing and tailored services to reduce homelessness and poverty for residents of Snohomish County and Camano Island, Washington. In 2018, ChildHope programs served 747 people–358 parents and 389 children in 315 families. Tomorrow's ChildHope Child Development Center serves children from four weeks to twelve years of age, providing assessments for each child to determine special needs and treatment plans to help those children who may be traumatized by poverty and homelessness.
Windermere Legends Golf Tournament
Another golf tournament of note is the Windermere Legends Golf Tournament–in honor of Windermere legends Dick Wood, Don Deasy, Don Riley, John Demco, Terry Haberbush, Vince Haugerud, and Walley Starkey. It is hosted by several Seattle-area Windermere offices. Established in 2007, the golf tournament benefits the Windermere Foundation and The Don Deasy Memorial Leadership 1000 Scholarship Fund. The tournament was originally called the Don Deasy Memorial Golf Tournament, in honor of Don Deasy, a Windermere icon and valued franchise owner. The scholarship fund provides grants to help fund the college education of a Quincy High School graduate (Don's hometown) who plans to attend the University of Washington. In its first year, the tournament raised $75,000. Sixteen years later, this annual golf tournament has raised a total of over $671,300.
Thanks to events like these golf tournaments, the Windermere Foundation has been able to raise more than $38 million over the past 30 years in support of low-income and homeless families. To learn more about the Windermere Foundation, or to make a donation, please visit windermerefoundation.com.
This post written by Marilou Ubungen originally appeared on the Windermere Blog