The holiday season is here and for many of us, that means it's time to deck the halls. If you're looking for some inspiration and a place to start, here are some ideas that are certain to get everyone in the spirit.
A Tree of a Different Color
Photo Credit: Left – Lushome, Center – HGTV, Right – Christmas365
For many, there's nothing more quintessential during the holidays than a Christmas tree decked out in ornaments. But acquiring a tree can be challenging and expensive. Moreover, housing a tree consumes time and space. That's why we love the idea of an alternative tree. There are plenty of options you can buy online or create yourself using things you probably already have around the house. And if you miss the smell of a real tree, try a scented candle or essential oils.
The Season of Lights
Photo Credit: Amara
There's something perpetually charming about twinkling lights. Whether you're wrapping them around your front porch or adorning your fireplace mantle, extra lights deliver a warm glow during the holiday season. Getting creative and adding light to otherwise unexpected places, including bookcases, around headboards, or even in glassware, is a great way to keep everything looking merry and bright.
Act Natural
Photo Credit: Better Homes & Gardens
Not all holiday climates are built alike. If you're expecting a white Christmas, you're probably used to pine trees and winter brush, but for those of you located in regions where the mercury doesn't drop, sprinkling in natural elements can transform your home into a wintery oasis. Holly and pine needles add a traditional touch, or consider a wreath of olive branches with some sleigh bells interspersed.
Bring it All Home at Dinner
Photo Credit: Amara
When decorating for the holidays, don't forget the table! A sprig of holly adds a festive touch to your place settings. And instead of the traditional centerpiece, try placing candles in glass vases or mason jars to give your tablescape that added touch of holiday pizzazz.
---
This post originally appeared on the Windermere.com Blog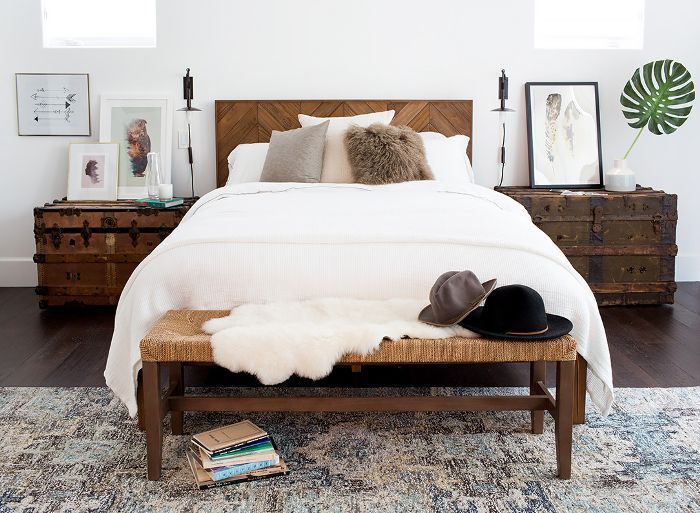 Photo by MyDomaine 
At the end of a long day, your bedroom should be a sanctuary of comfort that welcomes you in. But, as a room that guests rarely see and in which homeowners spend most of their time with their eyes closed, its upkeep frequently gets pushed to the bottom of the to-do list. Thankfully, there are some little design tricks that can make a big difference. Turn your bedroom into a restful retreat when you up its coziness factor with a few of these easy ideas.
Layer textures. Sheepskin rugs, a down comforter, plush pillows, and knit blankets can add a softness to the room that will make you want to sink right in. Lift these textures upward, with a canopy, tufted headboard, billowy curtains and hanging textiles (like a weaving) so even the walls and ceiling feel snuggly.
Pick the right paint. Dark, saturated colors make a room feel like it's embracing you, which is ideal for setting a sleepy environment. But if you're nervous to commit to a dark color on the wall, choose a pale dusty blue, sage green or another light natural color for a soothing tone (just steer clear of energetic hues). Have you ever wanted to sleep on a cloud? Go with all-white paint and decor which makes even a basic bedroom feel soft and spa-like.
Personalize it with reminders of the places and things that make you feel at home. Do you have a fondness for flowers? Bring floral patterns in on your textiles. Do you dream of vacation at the lake? Frame a photo of your favorite spot! Photos or paintings of uncluttered natural landscapes—like a sunset reflecting on water or a hammock under the shade of an oak—can rekindle memories of relaxation and are perfect for creating a sense of calm.
Add mood lighting. Soften the light to mimic dusk for an intimate mood with dimmer switches, lamps, lanterns or even string lights. Just make sure you can reach the switch from bed, so you don't have to disturb your peace to get up and turn it off when you're ready to roll over and fall asleep.
Skip metallic finishes. Choose warm natural decor options like wood and fabric instead of cold, manufactured metallics. This goes for everything from your bedroom furniture to window treatments. Faux wood blinds, especially when paired with floating curtains, fit with a cozy aesthetic and let you filter out harsh sunlight and maintain privacy for a truly sheltered slumber.
Bring on the books! Stacks of good reads invite you to snuggle in and get lost in another world. A true retreat is a room with plenty of books that begs you to stay.
Fix up—or fake—a fireplace. If your bed sits hearthside, embrace this romantic accent with styled logs and a decorated mantle. If you don't have such a luxury, create a faux fireplace to add comfort and warmth through your décor: Arrange oversized candles and lanterns safely within a homemade hearth to bring in that cozy fireside feeling without changing the structure of your home.
Keep the room uncluttered. When you want to settle in, a mess distracts you from finding comfort, to minimize the amount of stuff that makes it to your bedroom. Watch your nightstand, which often becomes a catch-all, by making a point to rehome any wandering wares now, and put things away as soon as they enter the room in the future. If you're apt to let laundry pile up, keep it behind the closed doors of your closet so it doesn't crowd your peace.
Create a sense of timelessness. Tuck clocks and electronics away so they're nearby if you need them, but their wires and harsh silhouettes aren't reminding you of life outside your sanctuary. The hush that falls in a room devoid of gadgets will allow you to easily disengage from the stresses of reality.
Rethink your bedding. Add a pillow-top pad to your mattress so it feels like your bed is hugging you when you climb in. Or, bring in a contoured body pillow which actually can hug you! Linen sheets feel luxe compared to cotton and are a simple swap to boost your bower. Many people also swear by skipping the top sheet while dressing their beds, which allows them to burrow directly into a fluffy comforter.
Appeal to your sense of smell. Aromatherapy can have a huge impact on your perception of a space, so find some soothing essential oils or a sweet candle to blanket the room with an ambiance you adore. As soon as you open the door, you'll be eager to plunge into your little oasis.
Nestle into nooks. A window seat, a reading nook or an upholstered seating area are all inviting spaces that can draw you in from the doorway. The more intimate alcoves you can create, the cozier your bedroom will feel!
Flooded with soft lighting, plush textures, and other comfy touches, your bedroom environment will envelop you at day's end. And, perhaps even better than the idea of your bedroom refresh itself, is knowing that none of these tips take longer than a weekend to complete! So, slide into your slippers as you settle on which cozy updates you'll select for your new favorite room of the house.
This post originally appeared on the Windermere.com Blog.
Posted on August 14, 2019 at 7:00 am
Ashley Abolafia
Category:
For Your Home
Outdoor living during the spring and summer months is extremely popular. Months of cold, wet winters are followed by glorious spring colors and warm summer days of vivid blue skies. In this post, we thought that now would be the best time to share some pretty garden trends for 2018.
Wabi-Sabi
Leisure time should be just that: relaxing and rejuvenating. So why labor relentlessly to create and maintain a perfect landscape? Wabi-sabi, is the Japanese art of accepting transience and imperfect beauty. Relax and appreciate nature as it is, with humble imperfections, weeds and all. Recognize (and tell others) that dandelions and clover in untreated lawns are not blights. They are status symbols for ecological horticulture. Consider natural grasses and groundcovers as low-maintenance substitutes for sod. Opt for perennials instead of annuals, let flowers go to seed and give nature license to evolve on her own.
Reclaiming Small Outside Spaces
For many of us these days, space is at a premium and with house prices continually on the rise, more and more people are living in apartment blocks or tiny lots. Garden designers are determined to make even the smallest of spaces useful and attractive, and manufacturers have taken notice. Look for a better choice in planters that slot onto balcony rails. New models will have coverings for protecting plants from cold temperatures so that you can even grow seeds and vegetables on your balcony alongside your flowers.

Self-watering wall planter systems have been improved for 2018 and the hanging macramé plant holder is having a bit of a revival. Add a small patio heater and you have an outside space you can enjoy all year round with minimal effort.
Purple Passion
Pantone's Ultra Violet is the color of the year. Maybe that's why you find purple flowers in this year's plant varieties and garden design. It's easy to incorporate this color in the garden as there are many flowers and shrubs with this beautiful color. However, there are also several edible purple plants that you can grow. Purple vegetables are not only interesting and pretty, their unique color denote anthocyanins which are very beneficial to your health.
Re-Wilding
This is a style that keeps popping up time and again. However, 2018 has taken the re-wilding trend up another notch. It is still all about working with nature, growing wildflowers and supporting our pollinating insects. Re-wilding means adjusting plant selections to better support local wildlife and growing both seed-producing and berry-bearing plants. However, now it is also about using 'green' gardening products, natural solutions to bug and slug killers instead of chemicals and insecticides and using peat-free products.
Alfresco Living
Outdoor entertaining and kitchen areas are tipped to be a key trend for Spring/Summer 2018. We are not talking about a little nook corner just off the kitchen. Alfresco dining spaces are being pushed out into the garden itself and made into a major feature. These dedicated outdoor dining areas are surrounded by in-ground and container plants for that lush feeling. Special flooring, comfy furniture and mood lighting turn it into a little haven. Complete the trend with a sunken fire pit, barbecue or pizza oven and you might never want to leave.
Lighting The Way
Adding lighting to your garden is not a new thing. However, in this age of renewable energy, garden lighting companies are turning away from the more traditional lighting solutions we have seen in the past. The advances in solar energy capture, means that we can light up our gardens in a variety of fun, affordable and better ways. No more changing batteries or wiring up the garden with electricity.

The wide range of lighting methods allows you to create whatever ambience you want. Simple stand-alone lights can mark pathways, either discreetly embedded into the path edges or standing loud and proud along the side. Multi-colored fairy lights can be tangled among the overhead branches of a tree creating dazzling shapes and textures. Solar Mason jars can be hung from above or used as table lighting. Festoon lights can create an ambient glow around any outdoor space creating romantic nooks.

This post originally appeared on the Windermere.com blog.
Posted on March 8, 2018 at 2:41 pm
Ashley Abolafia
Category:
For Your Home