On National Philanthropy Day – we wanted to highlight one of our favorite charities, the Windermere Foundation! We are so glad to be a part of an organization that prioritizes charity and community work!
Windermere offices throughout the Western U.S. have been busy raising money and making donations to non-profit organizations in their local communities that provide services to low-income and homeless families. And their efforts are paying off; so far this year we've raised over $1.5 million, bringing the total raised by the Windermere Foundation to $39.5 million since 1989.
Here are just a few examples of how our offices are giving back to their communities:
Fort Collins, Colorado
The Windermere Real Estate office in Fort Collins held its 5th Annual Windermere Foundation Tailgate Party on Friday, September 20. The family-friendly event featured food, drinks, a bouncy house obstacle course, corn hole, face painting, and live music. Over $1,800 was raised for the Windermere Foundation during this event. All proceeds from the tailgate "party with a purpose" benefitted Partners Mentoring Youth and Crossroads Safehouse.
Centralia, Washington
The Windermere office in Centralia, WA sponsored the "Down Home: A Toledo Shindig" event held at Bonanza BBQ on September 14 to benefit Toledo School District students in need. Local businesses and residents came together to donate auction items, food, and volunteer their time. Windermere Centralia office managing broker Paula Burrows, Dan Gorton owner of Bonanza BBQ, and others from the community formed a committee and spearheaded the organization of the fundraising event, seeing a need in the community that was not being met. The Gortons provided the venue and the BBQ. Other sponsors provided additional food items, entertainment, and big-ticket items for the auction. The event raised $34,000 for a fund to help provide basic needs for students in the school district, things that low-income families couldn't otherwise afford.
Photo Courtesy of Josie Ray Photography
Spokane, Washington
The Windermere office in Spokane, WA held their annual Windermere Shoes and Socks Event at their local Big 5 sporting goods store on August 24. Windermere agents and family members volunteered their time to help 132 children select a pair of shoes and socks. An additional 250 pairs of socks were also donated by Liberty Lake Rotary. In total, the Windermere office donated over $5,400 to provide shoes and socks to local children in need.
Windermere offices are proud to host events in their communities, like the ones mentioned above. These generous donations to the Windermere Foundation further our mission to support low-income and homeless families in the areas where we live and work. If you'd like to help support programs in your community, please click the Donate button.
To learn more about the Windermere Foundation, visit WindermereFoundation.com.
This post originally appeared on the Windermere.com Blog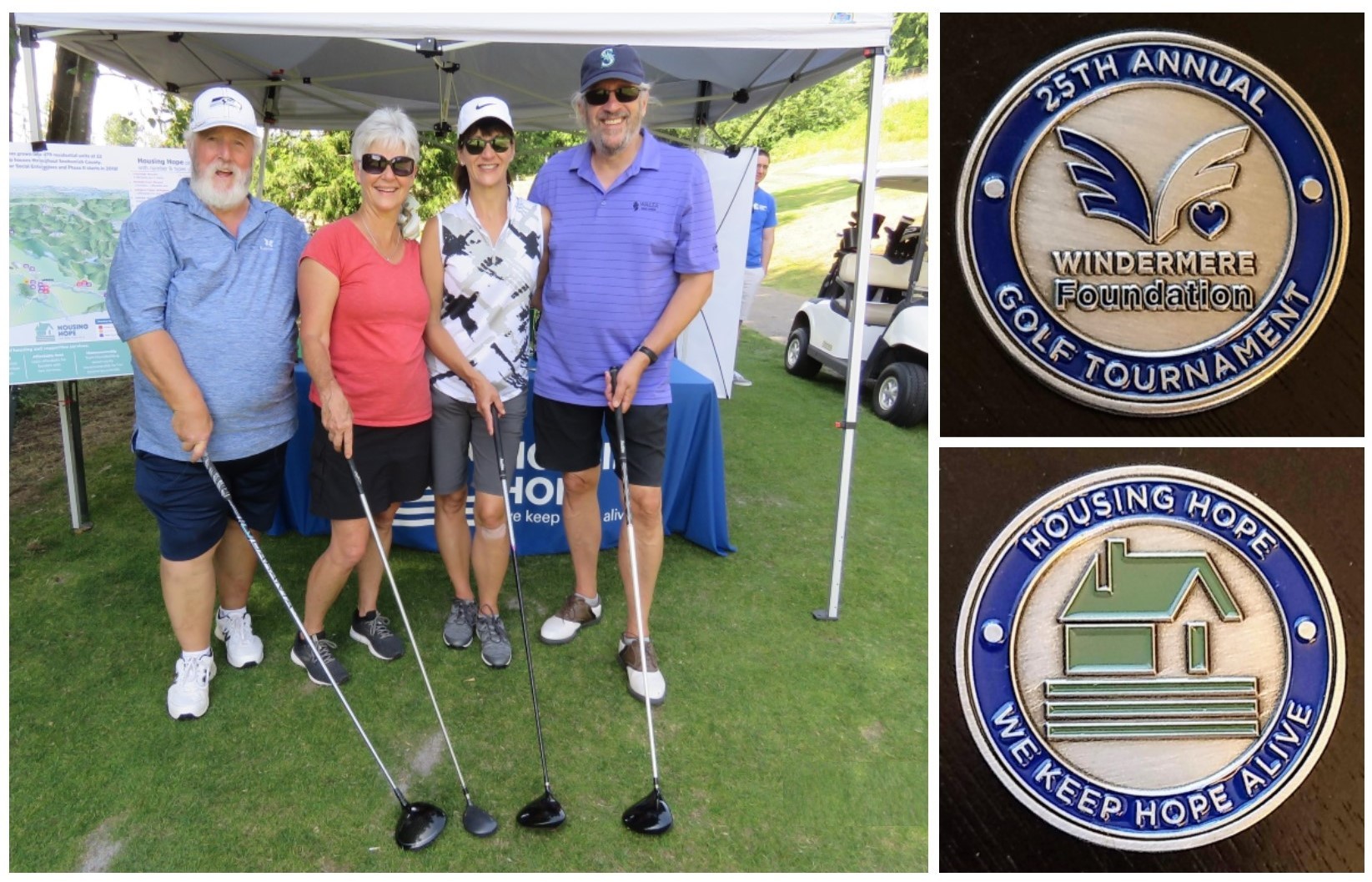 Golfing and giving seems to be a tradition with Windermere Real Estate. Many of our offices hold golf tournaments to raise money for local non-profits via the Windermere Foundation. The longest-held Windermere golf tournament has been hosted by a group of Windermere offices in Snohomish County, Washington.
Snohomish County Windermere Foundation Golf Tournament
This year's 25th Annual Snohomish County Windermere Foundation Golf Tournament was held on July 26 at Cedarcrest golf course in Marysville, Washington. It was a festive day of golfing, food, and fun as they celebrated 25 years of support for low-income housing. The event raised nearly $30,000 for the Windermere Foundation, which then sent a donation to support Housing Hope and their ChildHope programs. Each golfer received a commemorative Windermere Foundation 25th Annual Golf Tournament coin. Over the past 25 years, this tournament has raised over $400,000 in support of non-profits in Snohomish County.
Housing Hope's mission is to promote and provide affordable housing and tailored services to reduce homelessness and poverty for residents of Snohomish County and Camano Island, Washington. In 2018, ChildHope programs served 747 people–358 parents and 389 children in 315 families. Tomorrow's ChildHope Child Development Center serves children from four weeks to twelve years of age, providing assessments for each child to determine special needs and treatment plans to help those children who may be traumatized by poverty and homelessness.
Windermere Legends Golf Tournament
Another golf tournament of note is the Windermere Legends Golf Tournament–in honor of Windermere legends Dick Wood, Don Deasy, Don Riley, John Demco, Terry Haberbush, Vince Haugerud, and Walley Starkey. It is hosted by several Seattle-area Windermere offices. Established in 2007, the golf tournament benefits the Windermere Foundation and The Don Deasy Memorial Leadership 1000 Scholarship Fund. The tournament was originally called the Don Deasy Memorial Golf Tournament, in honor of Don Deasy, a Windermere icon and valued franchise owner. The scholarship fund provides grants to help fund the college education of a Quincy High School graduate (Don's hometown) who plans to attend the University of Washington. In its first year, the tournament raised $75,000. Sixteen years later, this annual golf tournament has raised a total of over $671,300.
Thanks to events like these golf tournaments, the Windermere Foundation has been able to raise more than $38 million over the past 30 years in support of low-income and homeless families. To learn more about the Windermere Foundation, or to make a donation, please visit windermerefoundation.com.
This post written by Marilou Ubungen originally appeared on the Windermere Blog